May 15, 2023 03:51 AM Central
Sandi Manhão
Hey friend! Remember my previous post about Ningxia Red and why everyone is talking about it? (
No? Read it here!
)
Well, let's dive even deeper into this amazing superfood drink and talk about some of its main ingredients.
Today I'm going to discuss the main ingredients of this powerful drink and what they do to benefit your health.

Its unique blend of antioxidants, vitamins, and minerals makes it ideal for boosting energy levels, supporting healthy cell function, and promoting overall wellness.
First, let's look at wolfberry fruit concentrate. This is the primary ingredient in Ningxia Red and is sourced from the wolfberry shrub native to the Ningxia region in China.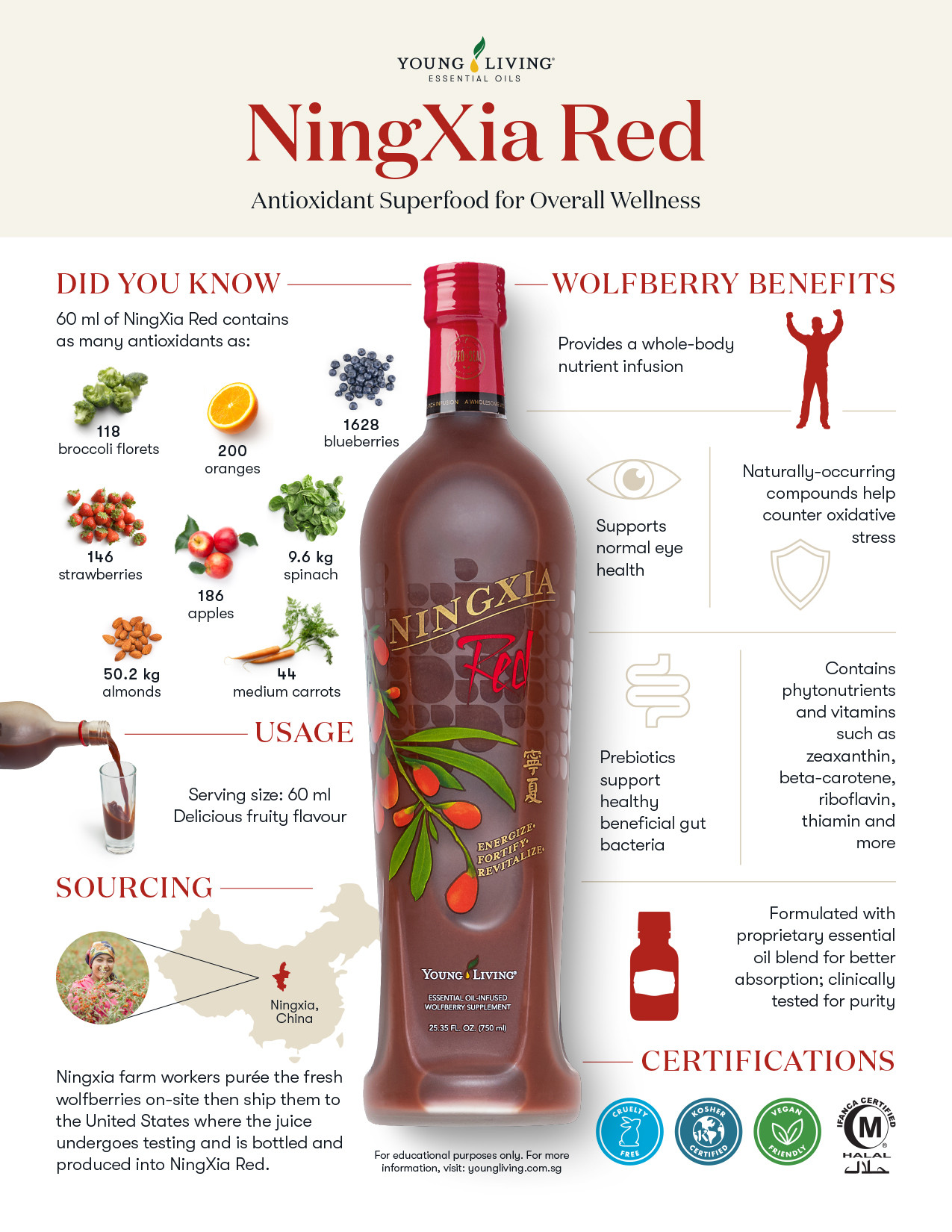 Ningxia wolfberry puree - Also known as goji berry, this small red fruit is packed with many powerful phytonutrients and vitamins such as vitamin C and carotenoids. It contains eighteen amino acids and antioxidants that fight diseases while strengthening the immune system. Studies suggest that consuming wolfberries helps reduce cholesterol levels and maintains healthy hair and skin. Some experts also tout wolfberry benefits as a longevity enhancer, claiming its properties can increase life expectancy by anywhere from ten to fifteen years!
Additionally, wolfberry has anti-inflammatory properties which can help reduce the risk of chronic diseases!
Blueberry - Blueberries are not only one of my favourite snacks, but they're also incredibly healthy for you! Thanks to their abundance of antioxidants and other vitamins, blueberries can help fight off disease and support a healthy lifestyle. Blueberries are believed to offer myriad benefits, such as bolstering heart health, sharpening mental clarity, and assisting the body in excreting toxins. I love incorporating them into smoothies, salads, and baked goods – there are many ways to enjoy the benefits of these wonderful little berries! So satisfy your sweet tooth while reaping the nutritional benefits of this remarkable superfood.
Aronia - The Aronia berry is one of those true wonder fruits. Not only does it make a delicious and versatile addition to any recipe, but it is also packed with amazing health benefits. Studies have shown that Aronia berries are high in antioxidants, which ward off disease, improve blood flow and circulation, and reduce inflammation. High in dietary fibre, these little berries can also help promote healthy digestion and weight management. Furthermore, Aronia can help support cardiovascular health by helping to lower cholesterol levels. With all these incredible perks, it's no wonder why this superfood has gained such popularity among those looking to optimize their overall health.
Cherry - With their naturally sweet taste, they make the perfect addition to any diet aimed to improve your overall well-being. Their impressive antioxidant content helps to reduce inflammation, while they are also known to help lower blood pressure, improve heart health and even aid in weight loss. As if this wasn't enough, cherries are incredibly rich in vitamins and minerals – making them the perfect guilt-free snack!
Pomegranates - Pomegranates are virtually nutritionally-packed fruit for anyone looking to make healthier lifestyle choices. Not only does it contain bacteria-fighting vitamins, such as vitamin C, but it also has fibrous properties that help digestion and gut health. Additionally, pomegranates have powerful antioxidants and may even support joint health. On top of being rich in Vitamin K, calcium, and magnesium, they can help to lower cholesterol when eaten on a regular basis.
Plum juice - Plums are not only delicious but are also incredibly beneficial for one's health! Superficially, plums contain vitamins C and K – both essential for strong bones and teeth. At a deeper level, plums can improve digestion, and nutrient uptake, and help maintain a healthy heart. They are full of antioxidants which can reduce inflammation while helping maintain overall well-being. On top of that, they play a role in maintaining cholesterol levels which is critical when striving to stay healthy.
Natural stevia extract- natural stevia leaf extract for sweetness without adding calories or sugar to the drink mix. Natural stevia leaf extract also helps reduce cravings for sweets while providing a healthier alternative to sugar-laden beverages like soda or juice drinks.
Grape seed extract - is an incredibly beneficial supplement. Not only is it packed with vitamins C, E and other antioxidants, but it is also known to reduce inflammation, improve vision health and support the prevention of cardiovascular disease.
Pure vanilla extract - Vanilla is an effective antioxidant that helps fight free radicals and environmental damage. Rich in minerals and vitamins, it can keep your skin healthy and youthful.
Orange, yuzu, lemon, and tangerine essential oils - These essential oils contain therapeutic compounds like terpenes, which have antioxidant and anti-inflammatory properties. Combining these essential oils provides additional vitamins, minerals, enzymes and trace elements for added health benefits.
Overall, Ningxia Red is an excellent choice for an all-natural energy boost or daily supplement with powerful antioxidant protection. With its unique blend of antioxidants, vitamins, and minerals, this amazing superfood can help improve overall health by protecting cells from damage while supporting healthy vision, skin health, and immune system function.
If you love Ningxia Red, let me know how you drink it in the comments. If you are ready to get your Ningxia Red,
contact me here
, I would be happy to help you.